Home People Research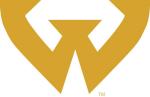 Publications Group Business Teaching, Outreach, and α Calculator
Department of Chemistry Wayne State University 5101 Cass Avenue
Detroit, MI 48202
Tel: (313) 577-2070
Fax: (313) 577-8822
Research in the Allen laboratory explores the chemistry of magnetic resonance imaging (MRI), catalysis, and rare-earth separations. We are at the frontier of inorganic chemistry intersecting with organic synthesis, analytical chemistry, and biology. Because of the multidisciplinary approach to science in the laboratory, group members are exposed to a wide variety of synthetic and analytical techniques from chemical and biological disciplines. Specifically, projects in the group require the synthesis of inorganic and organic molecules; characterization of these compounds using a variety of techniques including multinuclear NMR spectroscopy, mass spectrometry, fluorescence spectroscopy, and cyclic voltammetry; and compound testing through catalytic transformations or in vitro and in vivo imaging experiments.

Three major aims in the group are (1) to overcome critical barriers to the advanced use of lanthanide-based contrast agents for MRI; (2) to elucidate mechanistic details of water-tolerant lanthanide-catalyzed organic reactions with the goal of generating improved catalysts; and (3) to use chemistry to find sustainable sources of lanthanides.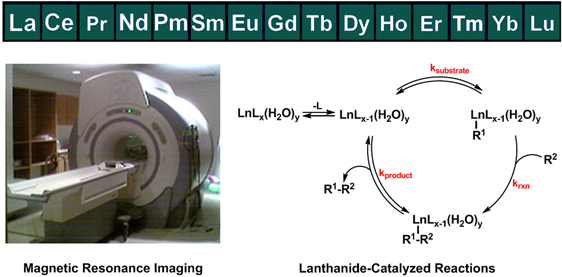 (1) Magnetic Resonance Imaging: MRI can be used to noninvasively visualize the inside of living organisms. This property of MRI has greatly advanced the ability to diagnose disease and evaluate medical conditions. Lanthanide complexes can enhance inherent contrast in MR images through interactions with solvent molecules. Through the selective enhancement of contrast, MRI can be converted into an even more powerful tool for imaging biological events on the molecular level (molecular imaging); however, there are major limitations to the use of existing rare earth complexes in improving the diagnostic capabilities of MRI and in the study of complicated biological systems. To overcome these limitations, our laboratory uses novel coordination chemistry to control the properties of lanthanide ions. Specifically, we are interested in controlling the magnetic and electronic interactions of lanthanide ions with their surrounding environment and in stabilizing unstable oxidation states. These projects will illuminate fundamental properties of lanthanides. Additionally, they are an inroad toward greatly enhancing the molecular imaging and diagnostic capabilities of MRI.
(2) Asymmetric and Photoredox Catalysis: The use of water-tolerant catalysts is of great consequence in synthesizing organic molecules in a more environmentally benign manner. The Allen laboratory is interested in the study of lanthanide-based, water-tolerant, asymmetric catalysis and visible-light-promoted photoredox reactions for organic transformations. In our studies, the field of MRI inspired the generation of advanced techniques for characterizing and controlling the properties of lanthanide ions. Our group is working at the intersection of the two fields of MRI and catalysis to design and study lanthanide-based precatalysts that lead to high enantioselectivity and water-stability. By studying and improving lanthanide-based precatalysts, we hope to increase the quality and number of more environmentally benign catalysts for the synthesis of important organic molecules.
(3) Rare Earths from US Extractions (REUSE): The rare-earth elements are a set of 17 elements (lanthanides plus scandium and yttrium) that, although relatively plentiful in the Earth's crust, are not often found concentrated in large ore deposits. Due to their diverse magnetic, chemical, electrical, optical, and catalytic properties, there has been huge growth in the amount of technology that uses rare-earth elements over the past four decades, including advanced military and consumer technologies that involve unique metal alloys, optical displays, magnets, and lasers. Identification, characterization, and recovery of rare-earth element resources is critical to modern society. We are part of a large team of investigators that is studying both basic and related applied research in science and engineering toward the goal of developing rare-earth element supply chains as well as the responsible handling of waste streams.
The Allen Laboratory is grateful to organizations and individuals that have supported our research including Wayne State University, A. Paul and Carol Schaap, the American Foundation for Aging Research, the Elsa U. Pardee Foundation, the Michigan Initiative for Innovation & Entrepreneurship, Cambridge Isotope Laboratories, Inc., the Barbara Ann Karmanos Cancer Institute, the National Institutes of Health (R00EB007129, R01EB013663, R01EB026453, R01EB027103, F31CA247600, S10OD028488, and T34GM140932), the Department of Energy (DE-FE0031565), the American Chemical Society Petroleum Research Fund (59577-ND3), the National Science Foundation (CAREER CHE-0955000 and CHE-1564755), and the U.S. Army Engineer Research and Development Center (W912HZ-21-2-0048).